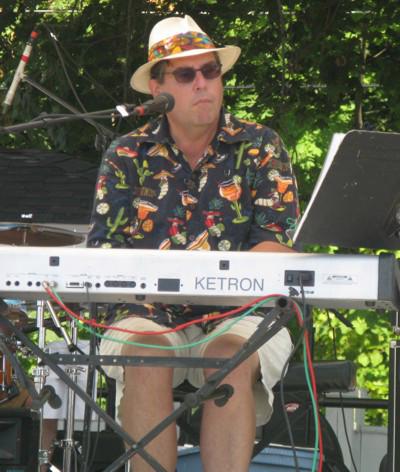 Carl Mayer brings a wealth of musical knowledge, experience and great keyboard sounds to the band.
Carl began playing the piano at the age of four, later developing his unique talent and
improvisational skills under the tutelage of well-known Cleveland pianist-composer, Joe Howard.
He studied music and radio production at National Music Camp, Interlochen, MI. Later he attended
Hartt College of Music (University of Hartford, CT) where he studied harpsichord, organ, piano,
choral music and conducting, while majoring in music theory and composition. He also studied
with world-renowned arranger Don Sebesky in New York. A two-time American Song Festival
Award winner, Carl has performed in clubs, cabaret and theater in the US and
Europe as a piano soloist, accompanist and band leader. His other projects included
writing, performing and producing music for radio and television, including work for Connecticut
Public Television, The Hartford Civic Center and Aetna Insurance Company. He has worked
with major keyboard and professional audio manufacturers in product development and
marketing for the music and sound industry. He has also been associated with various artists
and organizations including Bon Jovi, Brian Auger, Larry Coryell, and National Association of
Music Merchants (NAMM ). He is currently Organist/Music Director for First United Methodist Church
of Niagara Falls, NY and Music Director for the Niagara Falls Retired Men's Service Club Chorus.
He also served on the board of the Niagara Interfaith Chorale.
His CD of original piano music "At the Piano "was released in 2003.
Here's a link to some of Carl's original Music: